New Contest for 2015 (2014-12-10)
Three new contests have been created. You can join them. One is for stocks under 2$, another is for stock above 100$ and the last one is more open.
Three new contests (2011-12-16)
New contests today. One is open for the next year, the second one give the possibility to have 1 symbol in the same time and the last one let only the possibility to set order when markets are close. Have fun and happy new year.
New contest USA only (
2010-01-04 8:34:03)
A new contest has been created some minute ago. The main feature is that is authorize only US actions. Have fun and happy new year!
New version for team uploaded (
2010-11-21 16:59:01

)

A new version has been updated this afternoon. This new version contain some visual difference but the biggest update is that now it's possible to have team contest. This feature is not already available. We will wait 1 week to see if every thing is stable than go with a private contest with people over 100 reputation point or people with Premium Account for 45 days of testing. For the new year, the team contest feature will be available to everyone if all works fine.

If you notice problem or irregularity this week, please signal it into to forum or via email. See you soon.
New version in 1 week (
2010-09-19 14:42:54

)
Closed Stock Exchange Hour is now listed when you want to buy/sell.
Progression Graphic is now faster and high/low are now working better.
Stock Quote that change name are identified in the wallet.
Possibility to search user if you have over 35 reps or Premium Account.
Rank is now written in the wallet.
Rank and page is now displayed in the List of user.
New Widget to know HOT quotes of the last hours are now available for Premium Account.
Possible to know how is following you if you have over 50 reps or Premium Account.
All this will be available the 25th September 2010.
New Stuff This Autumn (2010-09-13 07:26:34)
New stuff has been developed and will be available for you soon. First, you will have the possibility to know who is following you in the Follow page. Second, you rang and page is now available. Rank will be displayed under your wallet and the page you are in the list of user for every contest.
Keep in touch with us. A lot of new stuff is coming soon!
New version for June 2010 (
2010-06-26 13h52:01

)

New version for the moderator Tools : Split! Split are now automatically changed the capital of the wallet. More, moderator and administrator have now the 2 votes instead of only one.
Ending Contest Soon
(2010-06-21 7:32:01)
Summer Contest is ending soon. Keep logging because new contest is about to launch in few days!
Three New Contest
(2010-04-14 20:42:29)
Tonight 3 new contests arrive for you. You can see them in the contest list in the top menu. The first one is for Penny Stock, the second one is for all Euro and the lastest one is 500 days of hard time! Have fun!!!
New features deployed since 1 week
(2010-04-09 11h56)
Since last week we have new stuff on StockVirtual. First is the Follow page that every user has at the left menu under their name. Now it's possible to follow 20 stocks symbols instead of only 7. Premium member still have unlimited following. A new feature is that you cannot select what email you can receive and which one your do not want. To do, you need to visit your profile by clicking your name at the left menu too. You have two options, the first one is to receive an email after 3 weeks of inactivity and the second option is to receive an email when new contests arrive. By default you will receive those emails, but you can disable that feature without problem or reactive it at your will. The last modification is now that every symbol is automatically formatted to remove white space or capital letter.

New contests will start soon, so stay tuned!
1 Symbol contest
(2010-02-11 12h45)
The contest "1 symbol in hand" is ending in 11 days. The top 13 is very strong an a head of the rest of the contesters. A lot of high respectable people of StockVirtual.com is in the top 13 with frimousse (275 reputations), cathrine (315 reputations), blach13 (84 reputations) and the beast Mr.Moon that is in the top of many contest since the last few months with 140 reputations.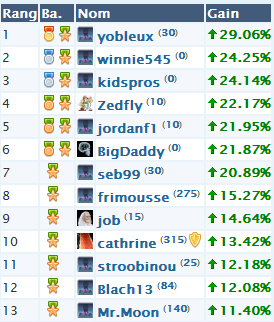 Keep the good works!
Reputation Widget Added
(2010-02-08 19h31)
Reputation Widget has been added to the dashboard. It's now possible to add this widget to know who has receive reputation.
New Widgets Available
(2010-02-06 11h02)
New widgets for the DashBoard is available and the system of configuration has been remake to be more smooth. Have fun with the widget and you should try to drag-and-drop widget to see how you can move them where you want.
New Version of StockVirtual.com
(2010-01-31 15h16)
New version of the StockVirtual.com simulator is now running. The main new features is about a new page called DashBoard that can be viewed in the user menu.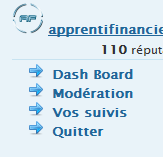 At first, this page is blank, but once you go in the menu at the top, you will be able to add boxes of information called Widget.

Some Widgets are strictly available for Premium Account, but most of them are available for everybody.

Widget can be configured if you have over 50 reputations points or if you are premium members.

More, you can move those widgets all around the screen and fix the position you want.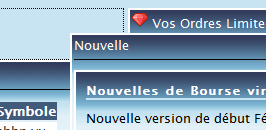 Soon more information will be available with this new page. Keep coming because new Widgets will be available in the next few months.
StockVirtual.com is up and running!
(2010-01-09 21h47)
StockVirtual.com is the new Virtual Stock Market game that is in fact a simulator of the real stock exchange. This is the english version of the known website Boursevirtuelle.com.